Sledování termálního režimu skalního svahu, spojené s monitoringem stability pomocí trhlinoměrů: prvotní výsledky ze tří lokalit v Česku
Článek popisuje univerzální, modulární a finančně dostupný systém monitoringu skalního svahu. Pomocí tohoto systému, je možné in-situ pozorovat klimatické proměnné, teplotu v povrchové vrstvě skalního svahu až do hloubky 3 m a dynamiku vybraných diskontinuit v čase. První výsledky ukazují na rozdíly pozorované mezi jednotlivými lokalitami. Pro budoucí rozsáhlejší statistickou analýzu dat, budou použity delší časové řady. Dále budou data využita pro analýzu dlouhodobých trendů a numerické termomechanické modelování.

Publikace: Racek, O., Blahůt, J., and Hartvich, F. (2021): Observation of the rock slope thermal regime, coupled with crackmeter stability monitoring: initial results from three different sites in Czechia (central Europe), Geosci. Instrum. Method. Data Syst., 10, 203–218, DOI: 10.5194/gi-10-203-2021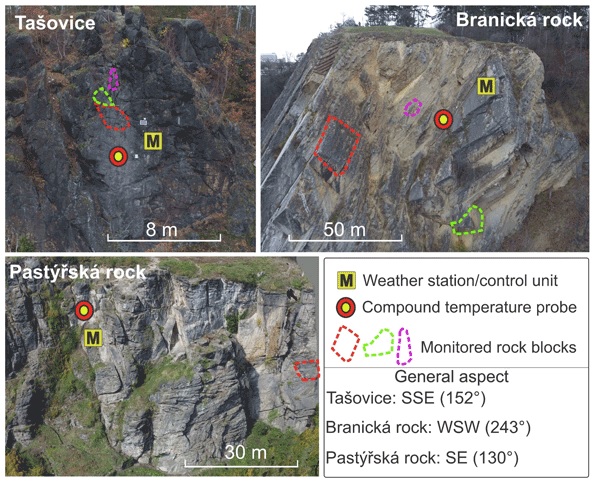 Snímek zachycuje tři osazené lokality skalního svahu. Jednotlivé monitorované bloky jsou označené přerušovanou čarou s rozdílnou barvou.
Dále je vyznačena poloha meteostanice a teplotního čidla ve vrtu.
Nové přístupy v monitorování sesuvů a analýze dat" Zvláštní vydání: Trendy a výzvy
V inženýrské geologii, geotechnickém inženýrství a geomorfologii je monitorování sesuvů pomocí standardních technik zcela běžné. Rychlý vývoj hardwarových i softwarových řešení, včetně miniaturizace nebo technik dálkového průzkumu, však přináší nové možnosti pro zvýšení přesnosti monitorování, analýzu dat v reálném čase nebo téměř v reálném čase a včasné varování. Účelem této publikace bylo shrnout hlavní statistické trendy odborných studií týkajících se monitorování sesuvů a analýzy dat a publikovaných na Web of Science. Zároveň jsou představeny odborné články publikované ve speciální čísle časopisu Applied Sciences.

Publikace: Blahůt J, Jaboyedoff M, Thiebbes B (2021): Novel Approaches in Landslide Monitoring and Data Analysis. Special Issue: Trends and Challenges. Applied Sciences 11(21): 10453. DOI: 10.3390/app112110453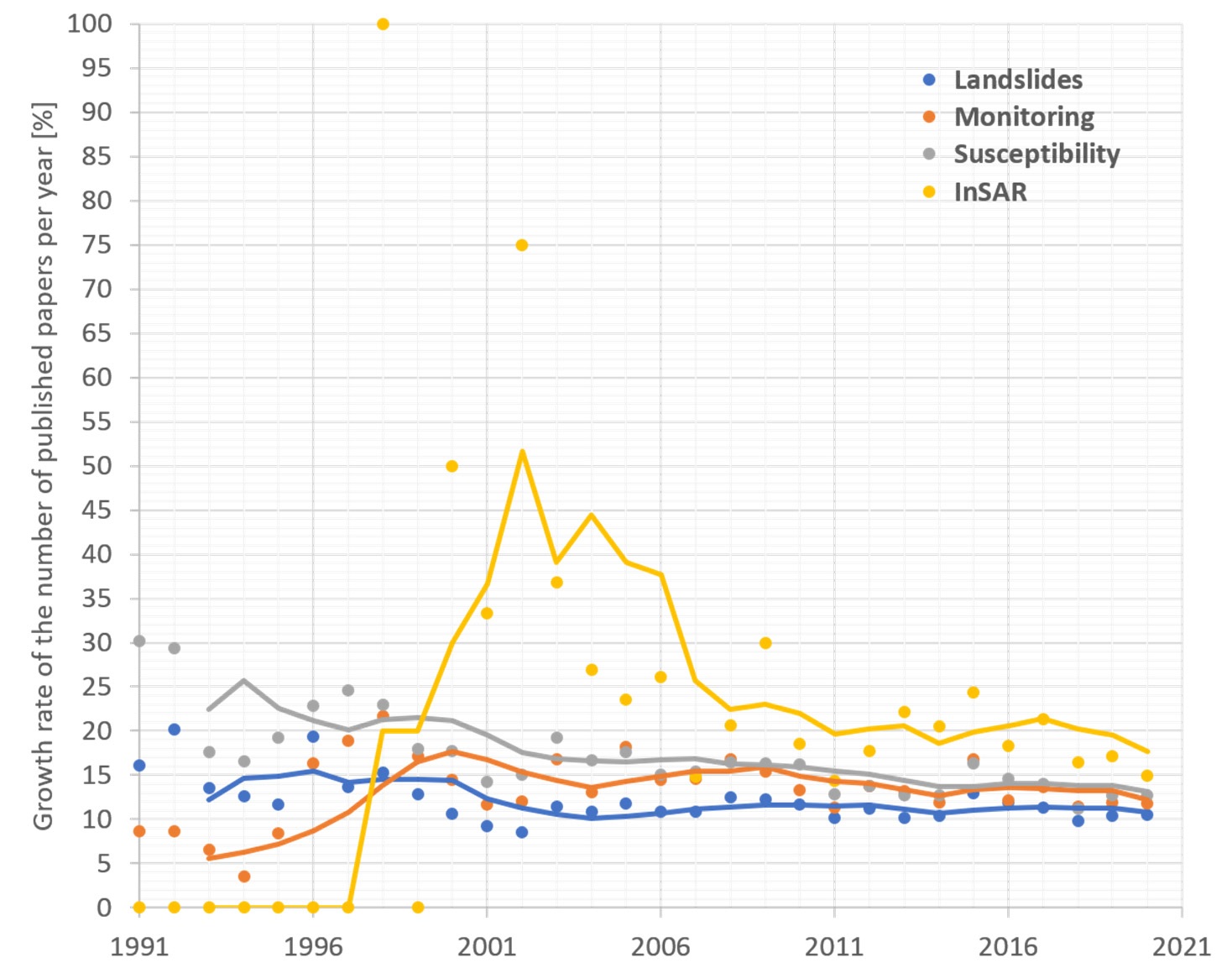 Tempo růstu počtu publikovaných prací za rok na vybraná témata od roku 1990. Čáry ukazují pětiletý klouzavý průměr.
Další významné publikace a výstupy
Loche M, Scaringi G, Blahůt J, Hartvich F (2022) Investigating the Potential of Infrared Thermography to Inform on Physical and Mechanical Properties of Soils for Geotechnical Engineering. Remote Sensing. 14(16):4067. DOI: 10.3390/rs14164067

Bruthansová J, Bruthans J, Van Iten H, Rak Š, Schweigstillová J (2022) Monospecific mass associations of Anaconularia anomala (Cnidaria, Scyphozoa) from the Upper Ordovician of the Czech Republic: sedimentological and palaeobiological significance. Lethaia 55(2):1–18. DOI: 10.18261/let.55.2.7

Slavík M, Bruthans J, Schweigstillová J (2023) Evaporation rate from surfaces of various granular rocks: Comparison of measured and calculated values. Science of the Total Environment, 856(2):159114. DOI: 10.1016/j.scitotenv.2022.159114

Baroň I, Plan L, Grasemann B, Melichar R, Mitrović-Woodell I, Rowberry M , Scholz D: Three large prehistoric earthquakes in the Eastern Alps evidenced by cave rupture and speleothem damage. Geomorphology 408. DOI: 10.1016/j.geomorph.2022.108242

Grasemann B, Plan L, Baroň I , Scholz D (2022): Co-seismic deformation of the 2017 Mw 6.6 Bodrum–Kos earthquake in speleothems of Korakia Cave (Pserimos, Dodecanese, Greece). Geomorphology 402: DOI: 10.1016/j.geomorph.2022.108137

Nguyễn T-T, Dong JJ, Tseng C-H, Baroň I , Chen C-V, Pai C-C (2022): Three-Dimensional Engineering Geological Model and Its Applications for a Landslide Site: Combination of Grid- and Vector-Based Methods. Water 2022, 14(19): 2941. 10.3390/w14192941

Szczygieł J, Baroň I, Melichar R, Plan L, Mitrović-Woodell I, Kaminsky E, Scholz D, Grasemann B (in print): Post-Miocene tectonics of the Northern Calcareous Alps. Scientific Reports – Nature.

Baroň I , Koktavý P, Trčka T, Rowberry M, Stemberk J, Balek J, Plan L, Melichar R, Diendorfer G, Macků R, Škarvada P (in print) Differentiating between artificial and natural sources of electromagnetic radiation at a seismogenic fault. Engineering Geology.

Dal Moro G, Stemberk J (2022) Tools for the efficient analysis of surface waves from active and passive seismic data: exploring an NE-Italy perilagoon area with significant lateral variations. Earth, Planets and Space 74:140. DOI: 10.1186/s40623-022-01698-z

Kusák M (2022) Application of fractal and multifractal analysis on Blue Nile drainage patterns in the morphostructural analysis of the Ethiopian highlands, Ethiopia. Progress in Physical Geography: Earth and Environment 46(3):357–370. DOI: 10.1177/03091333211059419

Odborný článek recenzovaný

Gunn J, Rowberry M , Smith A (2021) Exploring the impact of tourists on cave air temperatures: a Covid-19 case study from Poole's Cavern, Derbyshire, UK. Cave & Karst Science 48: 121-128. www.researchgate.net/publication

Rowberry M , Gunn J (2022) Atmospheric pressure anomalies at the British Cave Science Centre triggered by catastrophic volcanic eruption in Tonga on 15 January 2022. Cave & Karst Science 49: 14-18. www.researchgate.net/publication

Kapitola v odborné knize

Blahůt J, Klimeš J, Meletlidis S, Balek J, Rowberry M, Baroň I A decade of monitoring and research on the San Andrés megalandslide on El Hierro, Canary Islands, Spain. Advances in Natural Hazards and Volcanic Risks: Shaping a Sustainable Future - Proceedings of the 3rd International Workshop on Natural Hazards (NATHAZ22), Terceira Island - Azores 2022, Springer ASTI Series.

Blahůt J, Racek O Modern Methods of Rock Mass Characterisation and Rock Fall Monitoring: A Review. In Thambidurai P, Singh TN (eds) Landslides: Detection, Monitoring and Prediction – Technological Developments. Springer

Racek O, Blahůt J Rock Mass Characterization and Rockfall Monitoring: Traditional Approaches. In Thambidurai P, Singh TN (eds) Landslides: Detection, Monitoring and Prediction – Technological Developments. Springer

Rowberry M, Klimeš J, Blahůt J, Balek J, Kusák M (2022) A global database of giant landslides on volcanic islands. Progress in Landslide Research and Technology, Volume 1, Issue 1. Springer, 9783031169007. 10.1007/978-3-031-16898-7_22


Seznam publikací a výsledků za rok 2022 v pdf
Seznam publikací a výsledků za rok 2021 v pdf
Seznam publikací a výsledků za rok 2020 v pdf
Další publikační činnost oddělení naleznete v ASEPu